LIFTEUROP's design office's mission is to conceive and manufacture high-quality specialized lifting accessories that are specifically tailored to your needs.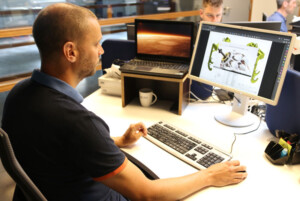 Your satisfaction and safety are at the core of our concerns. Therefore, we are committed to strictly comply with the applicable standards and regulations to offer you products that perfectly meet your specifications. This article will reveal the behind-the-scenes of our design office and our commitment to providing lifting solutions that meet your expectations!
STEP 1: Specifications
Do you have a specific lifting project? Share your specifications with us so that we can better understand your needs.
STEP 2: Analysis and Solution
Our design office carefully examines your specifications. We ensure that we have all the necessary information to propose a custom solution that meets your requirements.
Need additional elements? If some information is missing to develop the best solution, we will contact you to obtain it.
STEP 3: Proposal and Quote
We are ready to present the solution that seems best suited to your needs. Once this solution is approved, we provide a detailed quote for your project.
We want you to be entirely satisfied with our proposal. If the initial quote does not fully meet your expectations, please let us know. We are flexible and ready to adjust our offer.
STEP 4: Order
Are you satisfied with our proposal? You can now validate the quote and place an order.
STEP 5: Schedule
Upon receiving your order, we confirm it along with the completion deadline so that you can plan for the next steps.
STEP 6: Study
Our technical team gets to work! We conduct a comprehensive study to design detailed plans for your lifting equipment.
STEP 7: Approval
We submit the execution plans for your approval. Your green light will allow us to start manufacturing the equipment.
STEP 8: Manufacturing
Once the plans are approved, we begin the certified manufacturing of the equipment according to the agreed specifications.
STEP 9: Certification
Your safety is paramount. We certify your lifting equipment in compliance with CE regulations.
STEP 10: Delivery
Your project is now a reality! LIFTEUROP provides you with the ordered lifting equipment and delivers the agreed deliverables as per the quote.
At LIFTEUROP, we leverage our technical expertise and in-depth knowledge of lifting standards to serve your projects. You can rely on our versatile team to design, manufacture, and certify high-quality lifting accessories that meet your specific needs. Feel free to contact us to discuss your next custom lifting project!